Is Insignia a Good Brand to Buy in 2023? Before Buying- Check out Here.
It sounds impressive when you hear that a 4K resolution TV with a 55-inch display is just for less than 400$. Yes! Insignia provides various products (TVs) that could only get under 400$. In this situation, the first question can hit your mind- Is Insignia a Good Brand to Buy?
This is the era of smart things, so why should TVs lag? TVs are also getting smarter- you can use them for gameplay, streaming online OTT platforms, search something, etc. 
There are a lot of TV brands available this time, but the common question that all users have in their mind is which one is best. Well, it depends upon your needs. According to your need, you can select which brand is best suited to you, but, in this guide, we will tell you detailed things about Insignia TVs.
We hope you will enjoy this guide.
Is Insignia a Good Brand to Buy?
Well, it would be in favor of Insignia if we say that it is the best brand and the rest of the brands are bad. All brands have their own properties that make them unique from others. However, some qualities may be the same, but something will definitely be different. Let's see what things are different in Insignia.
Summary Lines: Insignia TV is marketed by a giant retail company- Best Buy. Insignia is a good brand if you are looking for a quality TV at a budget price. You can get a 55-inch 4K resolutions TV for just below 400$; if you purchase it in a deal, it can cost less than 300$ too. So, to buy a budget-friendly TV with almost all intelligent opinions, you can go with Insignia.
Now, let's dive into other things related to this brand as you should know them if you are making mind to purchase it.
What company makes Insignia TVs?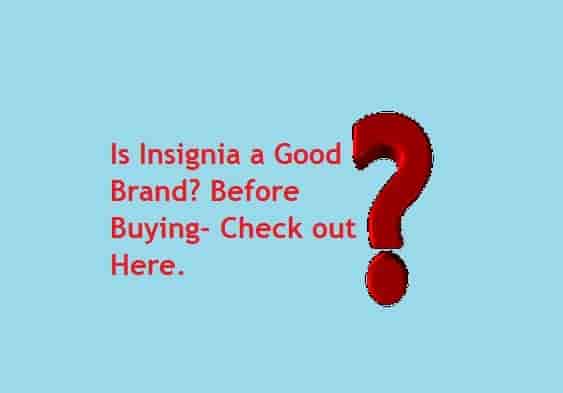 The first thing you should know or you would like to know is what company makes Insignia TV? The answer is below.
Insignia is a home brand of the giant retail company Best Buy. So, you can say that Best Buy makes Insignia TV. This giant retail company is also marketing Insignia TV. Insignia is a US TV brand that offers budget TV including intelligent options. However, you can say that the brand is fully owned by Best Buy, but the manufacturing of Insignia TV is outsourced from China.
There are a lot of other questions of users related to Insignia TV. Let's see these questions and their answers.
Frequently Asked Questions or Related Questions to the Insignia TVs
Why are Insignia TVs so Cheap?
Answer to this question can also consider as an answer to the question- Is insignia a good brand to buy? why? let's see.
Insignia TVs are so cheap, why? Could this be a reason that this brand is worse, or do the other brands charge more than this because of their reputation?
Insignia TV offers the same things at a lower price whereas other brands charge much amount than Insignia. We know this, but this doesn't mean that the Insignia TVs are worse than the others.
Sometimes, you can pay much amount for nothing more than a brand name.
So, the straight answer to this question could be the price you pay for a TV doesn't always have much quality as you might think. 
The price of a TV also depends upon when and where its parts come from. Users also ask this question, so we have also included this in our FAQ section.
Does Insignia only make TVs?
No, Insignia also deals in many other products. However, Insignia most importantly offers TVs, it also deals in other products that are Laptops and Desktops, Home Theater and Surround Sound, Projectors, Tablets, Gaming equipment (controllers, keyboards, etc), Cables, batteries, and chargers.
Does Insignia TV come with built-in Amazon Fire TV?
Yes, this is also a good feature of this brand.
Does Insignia TV come with built-in Roku TV?
Yes, you can get a built-in Roku TV with Insignia smart TV.
Where do Insignia TVs Come From?
However, Best Buy owns this company, it does not have a manufacturing factory like others. So, Best Buy outsources production from several different manufacturers in China, Taiwan, and Japan.
What are the Pros and Cons of buying Insignia TV?
Let's understand in a list view:
| | |
| --- | --- |
| Pros | Cons |
| Cost Saving. | TV's components may be outdated. |
| Still get High Quality. | Speaker Quality can be down. |
| Fire TV and Roku TV enable. | |
Pros and Cons of buying Insignia TV
What are Alternatives to Insignia TV?
You can consider these brands as alternatives to Insignia TV:
TCL.
Westinghouse TV.
LG TV, etc.
Are Insignia TVs worth it?
Insignia offers a broad range of features for not much money. So, if you have a low budget and want plenty of features, Insignia TV should be best suited for you then.
Do Insignia TVs last long?
Well, this totally depends on you. Despite this, with proper care and maintenance, Insignia TVs can last upwards of ten years.
Should I Buy an Insignia TV? 
If you have a good budget, you can look for other brands. But if your budget is low and you want to get plenty of features that other smart TVs have, then you should go for Insignia.
It all depends upon how much you are willing to spend on a TV. If your budget is 500$ max, you can easily buy a smart TV with the name of Insignia.
If you have a good budget, you can go for other brands.