Acer Monitor Blinking Blue Light (Permanent Solutions!) In 2023
Have you just come across the problem of an Acer monitor blinking blue light? One of my friends has an office and has many monitor brands such as Acer, LG, Samsung, Hanns G, Summer Infant video, HP monitor, etc. One day, he came to me and told me that he was dealing with an issue with one of his monitors, the Acre Monitor: it was blinking blue light. 
He didn't know the reason and the ways he could get rid of this problem. He knew that I am a tech guy and will help him with that issue. So, I did that and researched the problem and the next day, the problem was resolved for my friend. 
If you are seeing a blue light blinking on your Acer Monitor and don't know what to do then, I am going to tell you the ways that will solve this issue for you! 
Before moving forward, let's see what this means if your Acer monitor is blinking Blue light.
Blinking blue light on an Acer monitor indicates some kind of major problem such as a faulty power supply, bad capacitor, bad transistor, or the dead monitor itself. Besides this, sometimes just power resetting your monitor may solve this major issue in minutes, but if it fails, you may have to perform some techy steps! 
Don't worry, let's make it simple and try to fix the issue before purchasing a new monitor.
How to fix Pioneer Plasma TV Blinking Blue Light 8, 9, or 12 times?
Why is my Acer monitor blinking Blue Light?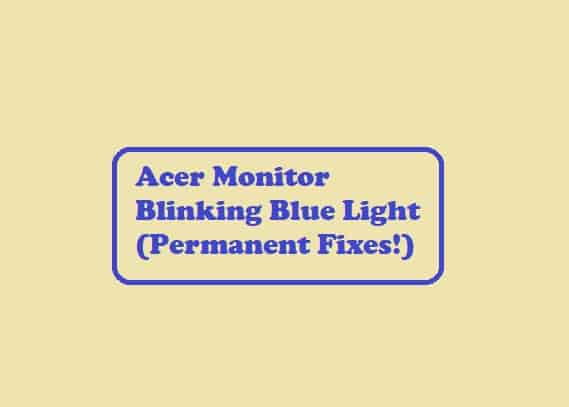 If your Acer monitor is blinking Blue light, there are several causes that can cause this. These are as follows:
Power Issue
One possible cause of a blinking blue light on an Acer monitor is a power or connectivity issue. This was the first thing I checked when I was troubleshooting the issue. 
So, if you are seeing a blue light blinking on your Acer monitor then the first thing you should check is the power supply. It could be either the cables connected to your monitor or the cable that is directly connected to the power outlet. Sometimes, the cable can come loose over time, so double-checked that everything is securely in place.
Sleep Mode
Sometimes, you just don't want to take tension because some Acer monitors just show blue light when the sleep mode is turned on. This is very normal and in fact a good sign to understand that your monitor is On but in sleep mode. 
If this is the case, just turn On the monitor and start using it. 
Issue With the Power Supply board
Issues with the power supply board such as a blown capacitor, faulty circuit breaker, non-working transistors, worn-out wires, defective cables, etc can cause the issue of a blinking Blue light on your Acer monitor. Generally, this is the case for seeing the blue light. 
But, don't worry, whatever the case, let's try to solve this problem!
How To Fix Acer Monitor Blinking Blue Light?
I already told you the causes of the problem, and based on that, let's see what you should do to fix the problem.
First Check the Main Power Outlet
First of all, check your main power outlet if any of the pins have been blown away or worn out. Remove the plug and insert it again.
Use an external board or extension so that it can be verified that the board is not the problem. 
Once you ensure every plug and wire is connected properly, try the next workaround! 
Power Reset Your Monitor
If your Acer monitor is blinking but has no picture, then just perform a complete power reset. It can fix the issue in the start before you mess anything with your monitor. So, just try this first. 
Just power off your Acer monitor and disconnect the cables from it and leave the cables detached and press and hold the power button on your monitor for 20 seconds. Now, leave the power button and connect all the cables that you had disconnected before. Once all the cables are connected perfectly, turn your monitor On, it shouldn't blink the blue light this time!
If even after doing this, you are still disappointed, then you can proceed to the second method.
Ensure There Is no Issue with Power Supply
Now, it's time to ensure that there are no issues with the power supply to your monitor. 
Disclaimer- In this, you may need to apply some technical steps. So, if you have any kind of issues, or don't know how to deal with the power board, take the help of a professional so that you don't mess with your monitor's power board!
Generally, the blue light blinks on your Acer monitor due to an issue in the power supply with your monitor; it could be caused due to defective cables, worn-out wires, a bad power supply board, a faulty circuit breaker, bad or blown-out capacitor, or non-working transistor. So, to fix the issue, you should check all these things and take action accordingly!
Don't worry, I am going to guide you with a step-by-step process so that these all things could be easily checked and the problem could be fixed. 
Here are the steps:
Firstly, turn your monitor off and disconnect all the cables from your monitor and check them carefully to see if there is any crack on the wires or any kind of defect there. If so, change the cables and the problem will be solved. 
If the cables are defectless, then check the wires connected to your monitor, one or more wires could be blown away, if so, change the blown wires and the problem will be solved. 
Now, again, if the problem is still there, this time you need to do some technical work. You would need to check the capacitors and the transistors on the power board of your monitor.
To do this, just unscrew the back panel of your monitor and then pull out the board carefully. Now, check the capacitors and transistors to ensure that they are not blown away or worn out, if so, change them with a new one and then solder or connect them properly again.
Next, once you connect or solder the defective capacitor or transistor properly, install all the parts handsomely and connect the panel again. 
Now, turn your monitor On. The screen should not blink again. 
If it is still blinking blue light, then you don't have another option rather than buying a new monitor: the monitor is dead! 
Also, you can connect with Acer support to get a resolution on this issue. 
Change Your Monitor: It is Dead
If the monitor is entirely damaged, there is very less possibility to repair it and get it back. However, sometimes changing the entire board may fix the issue, but If you are using your monitor for a long time, it would be good to change it with a new one with the latest features.
Another option that you have is to take your monitor to your nearest repair shop and if they are told that it could be repaired by paying piece money, you can go ahead. Otherwise, buy a new monitor with some new features to make your experience more exciting! 
Related Questions & Answers
Why won't my Acer monitor Turn On? How to fix it? 
If your Acer monitor isn't turning On, it might be due to a power supply issue. To fix this problem, you might first try to power reset your monitor then if this doesn't work, check wires, and cables to ensure that these are not defective from anywhere. Alongside this, you can also check if the capacitors or transistors on the power board of your monitor are not blown or worn out. If so, change them and your monitor will turn On!  
What things should I keep attention to before buying a new Acer monitor?
In a new Acer monitor, you should check these things:
Color gamut: it should be larger.
Video inputs: Nowadays, DisplayPort is very trendy. HDMI, VGA, and DVI will also go well.
Height: adjustable height would be a good choice.
Bottom Lines
Throughout this guide, I have covered all the major factors to break down the issue of 'The Acer monitor blinking blue light'. 
I hope you have resolved that problem for you and this guide helped you as you were looking for! 
If you have any suggestions or any doubts, feel free to comment below! Thanks! (Don't forget to share this guide!)