Samsung TV Error Code 151: Simple Steps To Fix
Is Samsung TV error code 151 appearing on your screen? Are you unable to play any application due to this error code? This guide will explain the steps that can save your time and help to resolve this error code from your screen.
Many users are searching for this error code online and looking for a solutions guide that can solve this problem, but unfortunately, there is not much information available related to this error. Even Samsung hasn't announced any official guide to fix this error code. 
We have researched this error and find not much information, but luckily managed some steps for you that hopefully will resolve this error code.
Samsung TV Error Code 151
According to the user's statement, Samsung TV Error Code 151 usually pops up when they try to open any application on their TV. Due to this error, they do not even have access to any application on their TV such as Netflix, iPlayer, etc. 
According to the victims saying, this can be assumed that the error code 151 is related to a connectivity problem. Luckily, connectivity issues can be resolved easily.
Read Also- How to Fix Samsung TV Error Code 152?
Samsung TV Error Code 151: Possible Causes
Here are some reasons that could be the culprit of getting error code 151 on your Samsung smart TV:
Outdated firmware of your TV.
Poor or Unstable Internet Connection.
Outdated version of the Applications.
Wrong Date and Time Settings.
Note: There could be one or more than one cause behind the error. So, try one by one step and see which one is going to fix the problem.
Read Also: How to Fix Samsung TV Error Code 012?
How to Fix Samsung TV Error Code 151?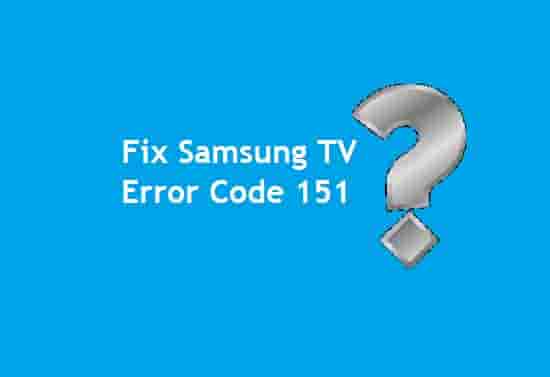 As you know, there could be many cases, so we will try one by step and see which one goes to help.
Check For Updates
If the issue is going with almost all the applications then, this could be due to a recent update. Check if any firmware update has been launched for your Samsung TV or not. 
Take your TV remote and press the Home button on it.
Using the directional button, select Settings.
Now, select Support from the options.
Then, go to the Software update option and select update now.
Now, your TV will start checking for any available updates.
If found any, select OK to complete the process.
Once, you have installed the latest update, restart your Tv and start opening any application on it and see if the issue appears yet or has been gone. 
Note: Also check, if the application that is facing the issue, needs to get updated.
Read Also: How to Update Samsung TV Software to its current Version?
Force Stop and Clear App Cache
If you are facing error code 151 while you are trying to open any application such as iPlayer, Netflix, Hulu, etc on your TV, this might be due to the corrupted app cache. Just force stop that app and clear the app cache and see if this helps to fix the error or not.
To force Stop the app, follow this trick:
Press & hold the Power button on your remote. Hold it for at least 5 seconds. Doing this, your TV will shut down completely, including all apps. Wait for a few seconds and turn the device back ON.
To clear App cache:
Click on the Home button and go to Settings.
Next, go to the System apps.
Select the app that is facing the issue to run.
Then press the OK button to confirm.
Read Also: How to clear app cache on Insignia TV?
Check Internet Connection
Internet connection should be proper and speedy to stream video content on your TV. So, check if your Internet device is throwing a strong signal or not. Check the speed of it and ensure it is good enough to run an app on your Samsung TV.
Additionally, you can restart your internet device, disconnect all other devices connected to the same internet, and perform a power cycle of your router or internet device.
Read Also: How to Install Chromecast on Samsung TV?
Check Date and Time Settings
If the date and time are set wrong for your TV, this might create a problem and lead to getting an error code on your screen. So, check these settings and set them correctly according to your location.
Also Read: Is Insignia a Good Brand to Buy? 
Uninstall and Reinstall the App
If the issue is with the application, uninstalling and reinstalling it can solve that. Note that when you uninstall and reinstall an app on your TV, it will install the newest version of that app. So if the issue was due to an outdated version of the application, this will fix after reinstallation.
Conclusion
However, very less knowledge is available about Samsung TV error code 151, but, you can fix this error code by updating your TV's firmware, updating the application version, checking your internet connection, clearing the app cache, and uninstalling and reinstalling the app. If nothing helps, contact Samsung TV Support.