Samsung Monitor Blinking Blue Light (Permanent Fixes!) in 2023
Samsung monitors generally blink blue light to indicate that it is in standby mode. However, faulty cables & power sources, outdated drives, and defective capacitors couldn't be negotiated for causing the problem of blue light. 
Previously, I told you that one of my friends was plagued by an issue with his Acer monitor that was blinking the blue light. 
In this guide, I will tell you how to fix a Samsung monitor that blinks blue light and the screen is black. 
Hi everyone,

My name is Liam and I have more than 10 years of experience in technology and gadgets. I have provided more than 100 guides that helped thousands of people to get rid of their problems, and I hope this guide will also help many including you!
So, let's start and dive right in to get detailed information about the problem 'Samsung Monitor blinking blue light'. 
Why is your Samsung monitor blinking blue light?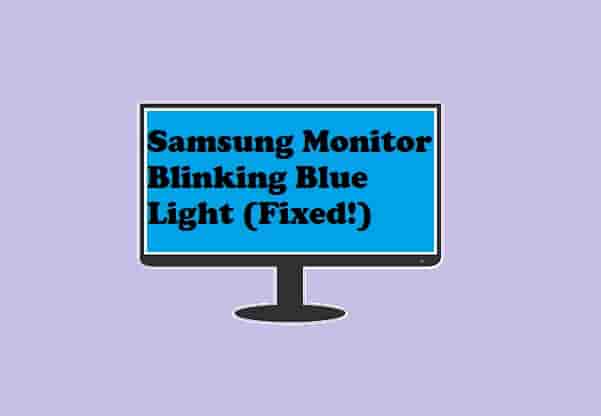 Conclusively, it could be said that the 'blue light blinking' issue on your Samsung monitor could be caused by hardware or software malfunctioning. However, in an explained way, it could be said that the problem could result from damaged or loose cables, outdated drives, defective power sources, blown or faulty capacitors, or some other hardware Issues. 
The problem is so big because when it happens, your monitor stops functioning and the screen goes black. So, to fix this problem permanently, first, you would have to know the exact cause of it.
Determining the exact cause would make the fixing easy. 
So, let's move forward and know the causes and solutions both together. 
Read Also- How to fix Acer Monitor Blinking Blue Light?
Samsung Monitor Blinking Blue Light (Causes & Solutions)
Screen issues with your Samsung monitor like flickering, lines, and discoloration such as blue or black screen can demonstrate an issue with the power supply or the monitor's screen itself. The best and quick methodology to deal with such a rapid problem is to fully disconnect your monitor from power. Turn off everything and let all the components cool down for a few minutes, after a few minutes, plug all the cables including the HDMI cable, and power up your monitor.
If this quick trick is freaky and the blue light is still blinking and the screen is still black, move sharply through this guide to know the exact cause and the solution to this problem!
Cables & Connections
The monitor communicates with the CPU through a cable and also connects with the power source. If somehow these cables fail to establish a secure connection, it could cause the blue light to blink. The connection fails generally if the cables are faulty or loose. However, sometimes ports are also loose as a result, the connection gets lagged. 
So, inspect all the cables and cords that connect your Samsung monitor to your CPU or the main power source. Also, check the ports- if they are loose or faulty. If you find a faulty cable or cord, change it or repair it so that the issue could be resolved. 
Defected ports should need to be repaired by a professional. If you have such knowledge, you can buy a new port and change the defective one with it, otherwise, go for a repairman so that it could be done without any further loss. 
Outdated Drives 
As the most frequent cause for the blue light blinking issue on your Samsung monitor, outdated or expired drives could be considered. Many serious display problems are the result of expired device drives. So, if you are experiencing blue light blinking issues with your Samsung monitor, you need to check your device drives. Once you update the drives, the blue light blinking problem should resolve. 
Here are the steps to do that:
Open Device manager by using the taskbar and click on it. 
By choosing your device category, select and right-click on the selected drive that you like to update. 
Let's find the update and once it is done, select the update drive option and wait until the process is completed. 
Once you update the outdated drives, the blue light will stop blinking and if it is still flashing, the next thing could be the cause then!
Power Source
If the power source is having any kind of interruption to flow power or the source is itself got damaged by any means, then the monitor may face issues in turning On.
Think like this- if your power plug or outlet is damaged and you plug your monitor into it, then it wouldn't turn On. So, yes- the burnout power outlet may cause a blue light flash. A defective circuit beaker, voltage fluctuation, or a power spike may cause malfunction to the power source. 
Unscrew the main board and check whether there is any issue with the board or you can call an electrician if you aren't in the know. Alongside this, you can use an extension board to ensure if there is really any problem with your main power board or not.
If using an extension board and checking your main board for any malfunction isn't helpful, it could be the capacitor!
Capacitors
Majorly, swelled or damaged capacitors and defective transformers cause a blue light issue on Samsung monitors whether of any model. Over time, the capacitors may swell or defective which leads to the functionality problem, and hence, blue light blinking issue may arise. So, whatever model you are using, replacing the faulty capacitor will fix the problem of the blue light blinking.
Note: The whole process could be performed only if you have a good knowledge of repairing electronic plates or parts, otherwise, you can mess things up!
First, unscrew the monitor and detach all the cables and wires connected to the power board. Steps or ways to unscrew your monitor could differ depending on your Monitor's model number and packing, you just take out the plate on which capacitors are mounted.
Once done, check for power flow through the capacitors. If the capacitors are swollen, you can see them clearly with your naked eye.
Unmount the faulty capacitors and other components and replace them with new and functioning ones. Once you do this perfectly, turn your monitor On and the blue light issue will resolve. 
Below, you can find a video guide on how you can replace a faulty capacitor on your Samsung monitor:
Safe Mode
The safe mode of your monitor causes a flashing blue light. Extremely drained batteries and 'no power' could cause a safe mode. Not only these but if you are not using your monitor or it is inactive for a long time, this also causes battery drainage, and as a result, the monitor goes into safe mode. 
So, boot your monitor and never do these: 
Don't leave your Monitor unused for a long time. 
Ensure your monitor has a good power supply.
Check the batteries and if they have worn out, change them. 
These are the ways that can put your monitor from going into a safe mode.
Important Questions & Answers
My Samsung monitor blinks on and off, why?
Firstly, it could be the cable: the loose data cable connection could cause this problem. So, check the cable and it is loose, change with a new one. 
Secondly, there could be a fault with your monitor. 
Can a loose cable cause the blinking blue light on my Samsung monitor?
Yes, it can. A loose or improperly connected cable can cause the blinking blue light on your Samsung monitor. So, if you are facing this issue, check all the cables that are plugged into the monitor and the computer.
Is there a way to disable the standby mode on my Samsung monitor to prevent the blinking blue light?
Yes, you can do it by accessing your monitor's settings menu and adjusting the "power saving" or "energy saving" settings. 
Always, keep in mind that disabling the standby mode will lead your monitor to consume more power when not in use.