Lennox error code 425 [What it is and how to Fix]
Lennox is not only taking care of your comfort but also adjusting the temperature of your house. Whatever the temperature outside, a Lennox unit moderates it according to you. You can take a rest much comfortably when you set a Lennox unit into your house. But you can't forget that an electronic gadget may have some bug or issue. However, a Lennox unit has many safety features in it to prevent major faults. But sometimes, users may encounter an error like Lennox Error code 425. 
Let's understand this error and of course, try to fix it also.
What is Lennox Error code 425?
According to the Lennox manual, Lennox error code 425 indicates that the outdoor control has increased the minimum compressor speed. This usually happens due to low ambient temperature. Compressor fan works to maintain the flow of returning oil, and when the ambient temperature is below the system limit, compressor speed increases to maintain the flow of returning oil.
Fix Lennox Error code 425
As there can be many reasons when returning the ambient temperature goes below its minimum limit. So, clarifying in the text will be quite tough but, you can try resetting your Lennox unit. You can also restart the unit and check the status of the issue.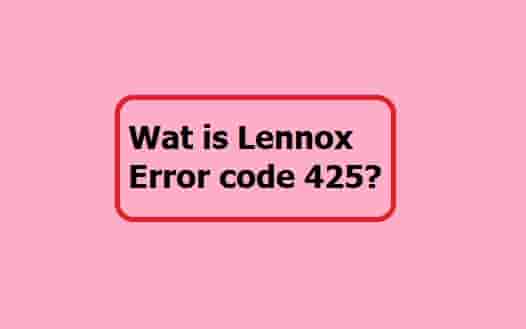 If this doesn't help go for a professional technician. Lennox itself provides an option to talk with an associate and they will guide you with better options. 
Many other technicians are available in the market but, if your unit is under warranty, we would recommend contacting the Lennox associate and asking them for a visit of a verified Lennox Technician.
The error will automatically clear when the ambient temperature will rises above the limit for more than five minutes. 
As we have mentioned that there is no possibility to mention the solutions in texts, you have only one option to call a technician and visit to fix the error code 425.
Read: Lennox Mini Split error codes