DirecTV Error Code 14 or 15: Easy Methods To Fix
DirecTV is an American multichannel distributor that has many videos, movies, and shows to watch. Some of the users reported that they are facing error codes on DirecTV, basically, the DirecTV Error Code 14 or 15.
Let's see what these error codes are and what you have to do to fix this from your screen.
What does DirecTV Error Code 14 or 15 indicate?
DirecTV Error Code 14 or 15 usually relates to the internal storage issue. In simple words, these error codes imply internal problems in reading the internal storage of the device or your receiver hard drive has an issue.
Now, that you know what DirecTV errors 14 or 15 mean, and when do they appear, let's see what steps you have to do to fix these error codes.
How to Fix DirecTV Error Code 14 or 15?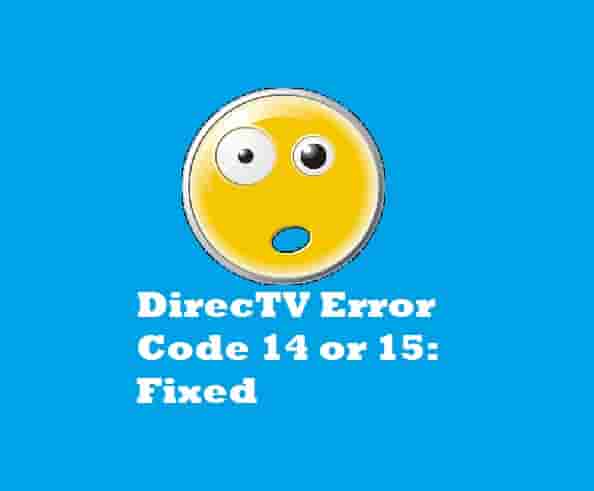 If you are encountering error code 14 or 15 on your DirecTV, don't worry! To fix the errors 14 or 15, just reset your DirecTV receiver. 
Find the reset button- that can be located on the side of the receiver or inside the access card door.
Now, press the red button and wait until the receiver reboot.
Note: If after, rebooting the receiver, the error code is still appearing, then the receiver needs to be changed. Don't try to reformat the receiver from the front panel.
Final Words
We hope, the error 14 or 15 from your device has been rectified by following the steps mentioned in this guide. If you are facing any other DirecTV errors, comment to us, and we will try to write a step-by-step guide on that.
Frequently Asked Questions
Here are some questions related to the DirecTV that users frequently ask.
Why is my DIRECTV on-demand not working?
DIRECTV on-demand may stop working due to poor internet connection, corrupted cache, outdated firmware version, loose cable connection, or power loss.
However, there could be several reasons, but, above mentioned are some of the common causes when DirecTV may stop working.
Can I reset the DIRECTV box with the remote?
Yes, you have to follow these steps:
Press and hold MUTE and SELECT together.
Now, hold these buttons until the light flashes three times. 
Next, press 9, 8, 1, and then SELECT. 
Now, the remote flashes four times and should reset successfully.
Where is the red reset button in the DIRECTV box?
You can find the red button on the side of the receiver or inside the access card door.
What does a red light on my DIRECTV box?
Blinking red light on your DirecTV box means the wireless connection to the Wireless Video Bridge is poor.