Samsung TV Error Code 301 [Complete Steps to Fix] 2023
This is very common that when you are getting an error on your devices like on TV, washing machine, etc. If you are a Samsung TV user then sometimes, you can also face some errors on your TV. One of them is Samsung TV Error Code 301. If you are getting this error on your TV then, read this guide. This guide provides the solution to get rid of this error code, which will help you.
What is Samsung TV Error Code 301?
Samsung TV Error Code 301 indicates the smart hub inability that usually occurs due to unstable internet. Sometimes, outdated TV firmware may also be responsible for this error code. Troubleshooting the internet connection, updating your TV firmware to its current version can be selected as solutions to this error code. Additionally, resetting the TV to its default may also help.
To understand the explained solutions to fix this error code, please check out this complete guide. We have tried to explain these all in an easy language and hoping, anyone can understand these solutions easily. 
Also, Fix: Samsung TV Error Code 106
Actions to Fix Samsung TV Error Code 301?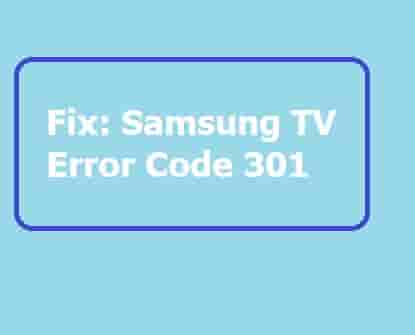 Here are some points, please check below-
Check the internet connection
Check the internet connection
Check your internet connection, is it connected with your device or not. Sometimes, you are not connected to the internet properly then, you will get Samsung TV Error code 301 on your TV screen. In this situation, turn off your WiFi and again connect to it. 
Check the Internet Speed
Because of the slow speed of the internet, you may get this error code. A good speed always overcomes many issues as it helps to run any app on the android or smart TV flawlessly. When it is slow, issues may appear on your screen, Or sometimes, other glitches may also happen. The good thing is you can easily boost your internet speed by applying some simple tasks. 
Firstly, try to disconnect other connected devices and connect only your Samsung TV. 
Palace your router nearby your TV if you are using wifi.
LAN is the best option, when you connect your TV through LAN, internet speed increases.
Restarting your router is another option, as when you do this, your router and internet take a fresh start that may also boost the and try again. 
Update the TV Version
TV  firmware may play an important role because an outdated version may have some glitches in it, as a result, an error code may arise. So always keep updating your TV firmware to keep away from many issues. Accordingly, choosing to update your TV software to its newer version will be a great idea to fix the error code 301. 
Follow this guide to update your TV's firmware: How to Update Samsung TV Software to its current Version
Reset Your TV
Warning: When you reset your TV, all settings that have been done by you will be lost, and your Tv will be set to its default.
If the above actions don't help, resetting your TV may do. Here are the steps:
Access the menu, then go to the support option.
Now, click on Self Diagnosis and select the Reset option.
You will be asked to enter the PIN, by default it is 0000, enter it and select OK.