Fix Samsung TV Error Code 801- Unable to Update Software
Do you have a Samsung Smart Tv and get an error code 801 when you are trying to update its software? Let's discuss what exactly this error code is and when does it appear?
Samsung TV Error Code 801 typically indicates an issue in updating process that could be caused due to a wrong procedure, or sometimes, due by a hardware issue. To fix this error or issue, you should follow the right procedure to update your TV's software. Additionally, you should also check for any hardware damage.
How to Fix Samsung TV Error Code 801?
To fix the error code 801- Unable to Update Software, we would mention only two ways. Here are these: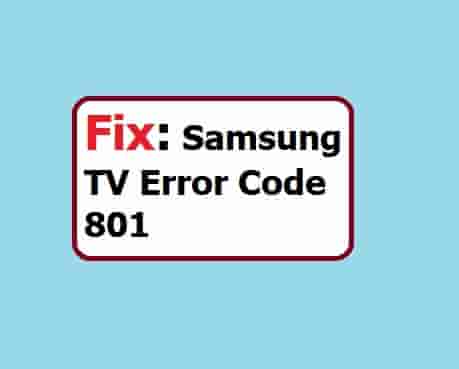 Follow the right procedure to Update your TV's Software
Usually, users don't know how to update their TV's software to its current version and when they should do this. If you don't follow the right procedure then, you can ruin the process and send an invitation to get an error code. So, read the guide that has kept the methods and steps to do an update of your Samsung Tv software.  Follow this guide:
Simple Steps to Update Samsung TV Software to its current Version
If following the steps and methods in this guide didn't help, then go forward to the second act of the task.
Check For Hardware Issue
If you are using a hard drive to install the updates of your TV,  and getting the error code then, might be possible that your USB drive or the port of your TV is damaged. In this situation, you have to replace your hard drive if the problem is with it, and if the port has been damaged then, go for a mechanic. 
Final Words
As we have researched the error code 801 on Samsung TV we have found that many users were choosing the wrong method to update the software. Sometimes, hardware issues are also found. So, select the right method and check your hardware to resolve this issue. If these don't help you, we would suggest contacting Samsung Support for better assistance as you are going through some other issue.
Also Read:

Samsung TV Error Code 301

Samsung TV Error Code 106