Siemens Dishwasher Error Code E09 [How to Fix]
What is Siemens Dishwasher Error Code E09, and what does it indicate? What are the circumstances when this error code appears? Do you have such types of questions in your mind then, read this guide. We have tried to explain all the aspects related to this error.
What does Siemens Dishwasher Error Code E09 indicate?
The Siemens Dishwasher Error Code E09 indicates an issue in heating elements. Mainly this error code appears due to a cut-off wire or when the heater got burnt. As a cause of this error code, you can consider a short circuit that may occur when the heating elements have gotten sealant due to water. Additionally, the overheating and burning of elements may also occur when the drain system provoked a slow water outflow due to clogging.
Additional Reason: Incorrect salt selection or absence in the ion exchanger may also cause an overheating problem that may lead to the burning of the heating elements.
Note: The only way to fix Siemens Dishwasher Error Code E09 is to replace the heating element. But, you should know the repair work steps for the replacement of the heating element.
Repair work steps for the replacement of the heating element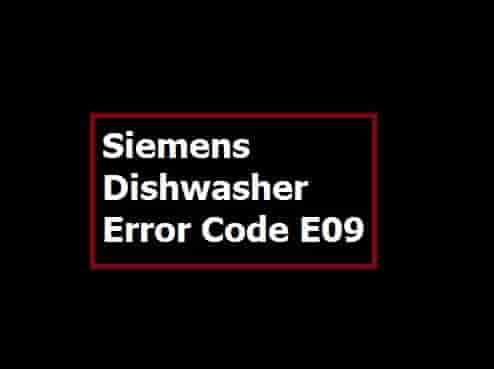 First, you should try to reset the error code by unplugging the unit from electric contacts. Next, wait for 10 minutes and restart. Sometimes, the error code can appear due to system failure.
Next, if the error is still peeking, you will need to remove the element and replace it. These steps may help you to do so.
Disconnect the unit from the power sources. Unscrew and move on to the bottom panel under the door. Remove the insulations and unscrew the pallets.
From the hopper, pull out the basket, and then, pull out the drain filter. Make sure you have removed the screws of the pump cover to secure it from any damage.
Go to the dishwasher's backside and disconnect the pump from the circulation pump.
Remove the block from the fasteners by loosening it.
Next, loosen the clamp from the heater and disconnect the wirings and remove it carefully.
Next, install only original parts as a new heater and reverse the process to assemble the unit. Restart your unit, and enjoy washing dishes. Cheers!
You would Love to Read Also:

Siemens Dishwasher Error Code E04

Siemens Dishwasher Error Code E25